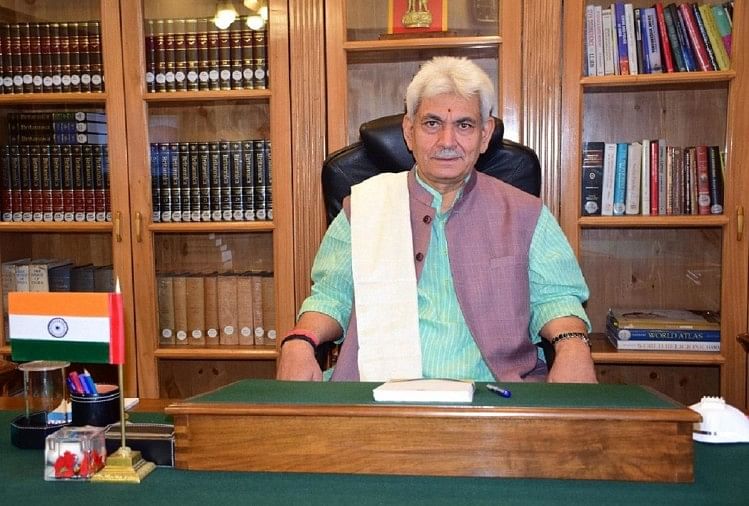 News Desk, Amar Ujala, Jammu
Published by: charisma chib
Updated Wed, 14 Jul 2021 11:31 PM IST
abstract
Self-employment can be started under Mission Youth. The Lieutenant Governor inaugurated the Government Ayurvedic Medical College in Akhnoor. State's first Ayurvedic Medical College will have 63 seats, 14 specialty faculties.
Jammu and Kashmir Lieutenant Governor Manoj Sinha
– Photo : amar ujala
Detailed
Lieutenant Governor Manoj Sinha has announced relief for the unemployed trained dental surgeons who have been agitating for the last 24 days. He said that the government would provide financial assistance to 400 dental surgeons and 800 paramedics in Jammu and Kashmir to start their own clinics through the special self-employment scheme under the Mission Youth programme. The Lieutenant Governor was speaking at the inauguration ceremony of Government Ayurvedic Medical College, Akhnoor on Wednesday.
He said that the Ministry of AYUSH has approved expansion of 571 Indian System of Medicine (ISM) dispensaries in Jammu and Kashmir in a phased manner by the year 2023-24. In this, 73 AYUSH Swasthya and Wellness (Health and Wellness Centers) centers have been started in the first phase by March 2021 and in September last year. The Lieutenant Governor said that this 63-seat first Ayurvedic college would help the students to learn Ayurveda system. There is an admission capacity of 63 students for BAMS course through NEET exam.
The college has experienced faculty in 14 Ayurvedic specialties. Apart from this, people will get better Ayurvedic treatment in 60 bedded hospital. It has established laboratories, departmental museum, Panchakarma, four-point facilities, better teaching, computerized interactive classrooms with multi-media projectors and screens.
Also read- Jammu and Kashmir: Three km long tunnel to be built on Akhnoor-Poonch Fourlane Highway, know why the tunnel is being built
Patients in the hospital will get OPD, IPD, clinical specialty, first aid, emergency medical care facilities along with medicines. He said that Ayurveda is our ancient medical system. In the second phase, ISM Directorate is working on 100 more AYUSH health and wellness centers in Jammu and Kashmir.

12500 centers being developed in the country

Under the National AYUSH Mission, 12500 Ayushman Bharat Health and Wellness Centers are being developed across the country. During this, Advisor Rajiv Rai Bhatnagar, Chief Secretary Dr. Arun Kumar Mehta, Divisional Commissioner Dr. Raghav Langar, ISM Director Dr. Mohan Singh, GMC Principal Dr. Shashi Sudan, DDC Jammu Chairman Bharat Bhushan, MP Jugal Kishore etc. were present.
.