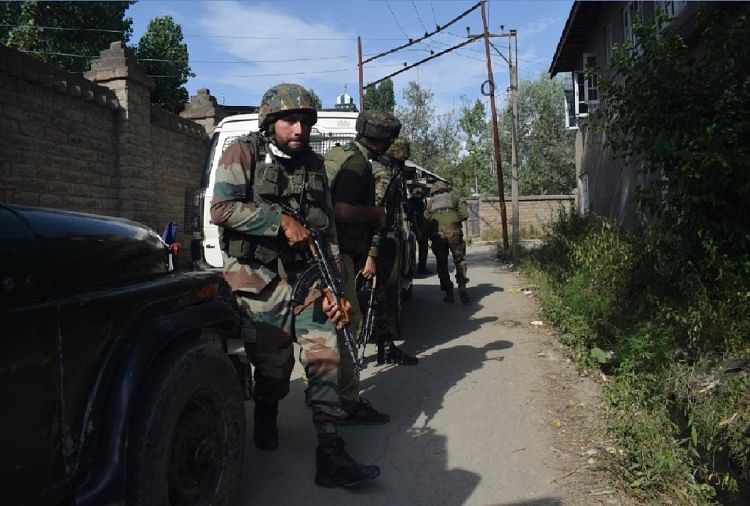 News Desk, Amar Ujala, Jammu
Published by: Dushyant Sharma
Updated Fri, 16 Jul 2021 08:05 AM IS
abstract
IGP Kashmir Vijay Kumar has told that both the terrorists killed in the encounter belonged to Lashkar-e-Taiba.
Srinagar Encounter
– Photo: Amar Ujala, file photo
Detailed
On Friday, the security forces got a big success in Jammu and Kashmir. Two terrorists have been killed in the ongoing encounter between security forces and terrorists. Both the terrorists killed were of Lashkar-e-Taiba. At present the search operation is going on. This operation is being carried out by a joint team of Police, Army and CRPF.
Security agencies had received inputs about the hiding of terrorists in Alamdar Colony, Danmar area of ​​Srinagar. After which the security forces surrounded the area. The security forces asked the terrorists to surrender. But the terrorists did not surrender and started firing on the security forces. The security forces also retaliated. In which two terrorists were killed.
IGP Kashmir Vijay Kumar has told that both the local terrorists belonged to Lashkar-e-Taiba. At present, the search operation is going on in the area. This is the second encounter in Srinagar this month.
According to IGP Vijay Kumar, 78 terrorists have been eliminated in the Kashmir Valley so far this year. Of the total terrorists killed, 39 terrorists were from Lashkar-e-Taiba. Other terrorists were associated with Hizbul Mujahideen, Al-Badar, Jaish-e-Mohammed and Ansar-Ghazwatul-Hind.

Let us tell you that these days terrorists are constantly becoming the target of the army in the valley. Just yesterday, three terrorists were killed in an encounter between terrorists and security forces in South Kashmir's Pulwama.
IGP Kashmir said on Thursday that one of the slain terrorists was Pakistani commander Ejaz alias Abu Huraira of Lashkar-e-Taiba. Along with this, two local terrorists were also killed. Two AK-47 rifles and a pistol were recovered from the slain terrorists. The operation lasted about eight hours. These notorious terrorists were involved in many anti-national activities.
Big terrorist conspiracy foiled on the eve of starting rail service
The plant IED was recovered by terrorists on Tuesday evening near Damjan railway track in Qazigund Mirbazar area of ​​Kulgam district of South Kashmir on Jammu-Srinagar highway. A major terror conspiracy has been foiled by the recovery of the plant IED on the eve of full resumption of train service between Banihal and Baramulla from Wednesday.
Police said that the IED was spotted near the railway track in the evening. Immediately the Bomb Disposal Squad was called. The squad defused the IED by taking possession of it. During this, traffic was stopped in the surrounding areas. Security forces also launched a search operation.
.