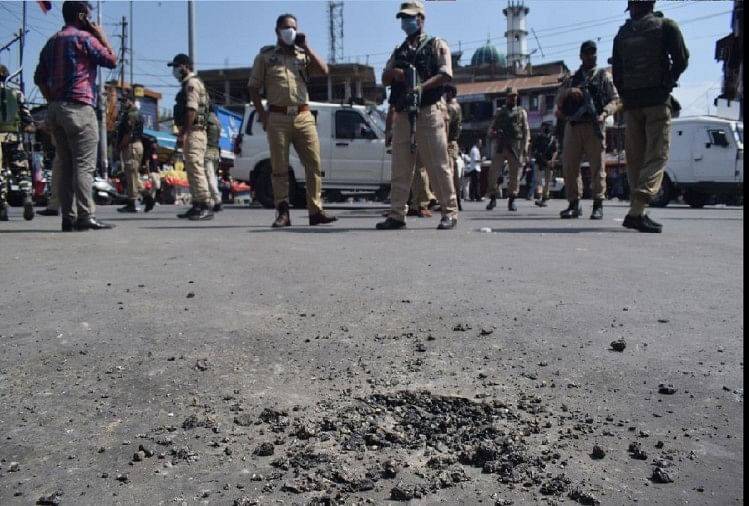 News Desk, Amar Ujala, Jammu
Published by: Prashant Kumar
Updated Tue, 14 Sep 2021 01:08 PM IST
Summary
Terrorists have carried out a grenade attack in Pulwama. Three local civilians were injured in this attack. A search operation is on to nab the attackers.
grenade attack
– Photo: Amar Ujala, file photo
Expansion
Terrorists carried out a grenade attack in Pulwama of Kashmir division on Tuesday. The attack was carried out targeting the security forces stationed at the main square. However, the grenade exploded on the road, due to which three local citizens were injured. He has been taken to the nearest hospital for treatment. On the other hand, the operation is being conducted by cordoning off the area in search of the terrorists who fled after the attack.
Also read- Weeping Valley: People gathered to pay last respects to the martyr, the condition of the family shook everyone
It is worth noting that due to the backlash, terrorist organizations have changed their strategy. He is conspiring to carry out hit and run as well as grenade attacks to inflict damage on the security forces. Not only this, such incidents are being carried out by Over Ground Workers (OGWs) and hybrid terrorists so that even if one of them is killed or caught, the terrorist organizations do not get a big shock.
According to DGP Dilbag Singh, the police will take strict action against the terrorists and their supporters to maintain the current peaceful atmosphere in Kashmir. Expressing concern over the increasing incidents in Srinagar, he said that the new modules that have been activated are on the radar of the police and action will be taken against them soon.

Also read- Hybrid terrorist: absconding with bullets fired on the back, this is how Dar was killed, cowardice caught on camera
Regarding the increasing number of terrorist supporters in Kashmir, the DGP had earlier also said that the police will take strict action against the terrorists and their supporters, including the OGW. He had said that it is the OGWs who pick up pistols to selectively kill and carry out grenade attacks to target innocent civilians. We are taking very strict measures against them. Let us tell you that the presence of hybrid terrorists in Kashmir has raised the ears of the security forces. This is a new challenge for the security forces. These part time terrorists like sleeper cells are targeting the unarmed. Hybrid terrorists were involved in the recent killings of politicians and policemen in Kashmir.
.