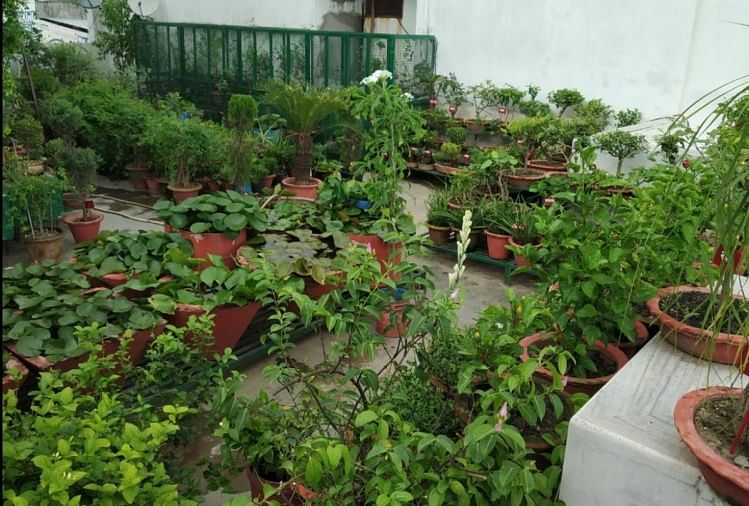 News Desk, Amar Ujala, Jammu
Published by: charisma chib
Updated Wed, 14 Jul 2021 10:15 PM IST
abstract
LG launches Horticulture Week, farmers' produce will be directly linked to the market. 1.20 crore aloe vera plants will be planted in Ramban, 42 lakh saplings will be planted in Doda.
gardening
– Photo : Amar Ujala
Detailed
To give a big boost to horticulture in Jammu division, the government will plant 25 lakh fruit trees in high density method. Inaugurating the Horticulture Week at Akhnoor, Lieutenant Governor Manoj Sinha said that this is the biggest goal of horticulture sector in Jammu division which will be achieved with the cooperation of the horticulturists. From July 14 to 20, the proposed Horticulture Week will focus on connecting every activity related to horticulture with technology and marketing the products. The LG said that the income of the farmers would be doubled.
LG laid the foundation stone of Mega High Density Plantation Nursery on 100 acres of land at RS Pura Chakroi. Plantation drive was started in Bhobaraya village adjacent to Chenab river. He said that earlier, the gardeners used to get subsidy on plantation only on minimum 4 kanals of land. Now this limit has been removed. 1.20 crore aloe vera saplings will be planted in Ramban district. In Doda and Ramban, 42 lakh strawberry plants and 67,500 olive saplings will be planted.
64 schemes of the center will change the picture
The LG said that the performance of J&K in One District One Product Scheme is among the five best districts of the country. 64 schemes of the center will change the fate of farmers and gardeners. In the horticulture sector, 50 to 100 percent subsidy is being given to the gardeners. A budget of 2008 crore has been kept for agriculture and horticulture this year. It shows the extent to which the farmer class is going to benefit. Farmers, departmental staff and scientists will have to work together.
Also read- Jammu and Kashmir: Three km long tunnel to be built on Akhnoor-Poonch Fourlane Highway, know why the tunnel is being built
Example given to progressive farmers

The LG said that Vijay Kumar Verma of Udhampur, farmer from Chhatradi in Majalta and Nari Shakti Mahila Self Help Group of Kathua have succeeded in increasing their income manifold with their innovative ideas. He said that Insha Rasool of Budgam has become an example of earning profit by growing foreign vegetables through organic method. Such examples are inspiration to other farmers.

Farmers will get 700 power tillers

During the Horticulture Week, farmers will be allotted 700 power tillers, 180 tractors, 34 farm machinery banks, 100 tractor-operated tools, 9000 farmers' pruning training, 650 borewells and ponds, 3050 drip irrigation units and 250 rain guns. .
Farmer leaders raised demands

J&K Farmers Advisory Board Vice President Daljit Singh submitted a memorandum to the LG urging him to increase the production of litchi, strawberry and other fruits along with mango in the Akhnoor region. At the same time, farmer leader KP Singh demanded opening of cold stores and setting up of War Memorial for mango crop.
.