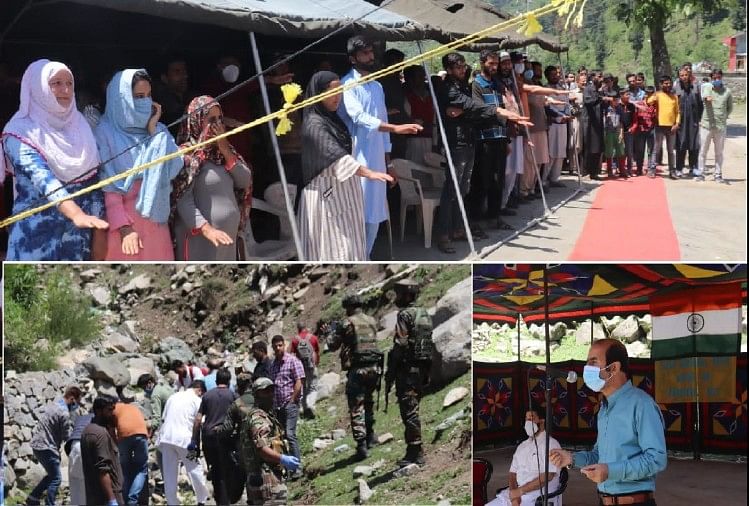 News Desk, Amar Ujala, Jammu
Published by: Prashant Kumar
Updated Thu, 15 Jul 2021 3:29 PM IST
abstract
Recognition related to Gangbal Lake-
Gangbal Lake is believed to be the abode of Lord Shiva. Situated at the foot of the majestic Harmukh mountain, the Gangbal Lake is about 3.5 km long, half a km wide and 80 meters deep.
Army took charge to keep Gangbal lake clean
– Photo : Amar Ujala
Detailed
34-Assam Rifles along with the civil administration sensitized the local population, tourists about keeping the garbage clean in and around Gangbal. Also told how this waste will directly affect their health and livelihood.
Gangbal Lake is situated at the foot of Harmukh mountain. It is the second highest peak around the Kashmir Valley located in the Ganderbal district of Jammu and Kashmir. This lake is also said to be home to many species of fish including brown trout. It is also a major source of income for tourist guides and restaurants in Naranag which acts as a meeting place for all the tourists visiting Gangbal. Due to the huge influx of tourists, the area has been flooded with waste which threatens both the ecology and the attractiveness of the area.
All the attendees were administered the oath of continuous efforts to keep the water bodies and surrounding areas clean under the Jal Shakti Abhiyan. During this, the national anthem was sung by all the attendants to create a sense of duty. The goal of this campaign is to clean Gangbal and the surrounding area by 30 November 2021.
On this occasion, SDM Kangan Hakim Tanveer, Tehsildar Kangan Abdul Majeed Rather, SDPO Kangan Yasir Qadri, BDO Kangan MD Akbar Civil Administration along with other dignitaries were present. Everyone appreciated the step taken by the battalion.
Also read- The chains of bigotry are breaking: Women of the valley on the development path, the story of changing Kashmir is hidden in these hands

.