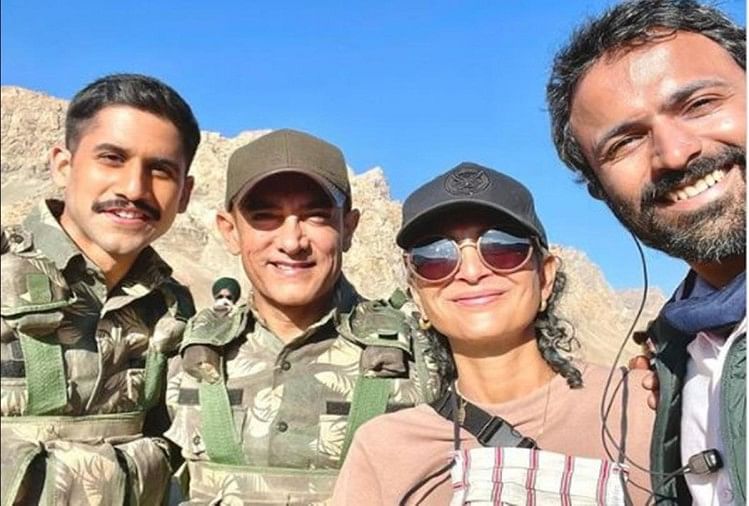 News Desk, Amar Ujala, Jammu
Published by: charisma chib
Updated Wed, 14 Jul 2021 11:05 PM IST
abstract
On the completion of the shooting, the people of Vakha village gave a farewell party.
Chaitanya Akkineni, Aamir Khan and Kiran Rao in Kargil
– Photo : Twitter
Detailed
Bollywood superstars Aamir Khan and Kiran Rao, who have announced divorce, won everyone's heart by dancing with the villagers in Kargil wearing Ladakhi costumes. Aamir Khan along with his production team had come to shoot a new film in Kargil, Ladakh, which is called the cold desert.
After the shooting was completed in Sarokha Thung Wakha village of Kargil, locals threw a farewell party for Aamir and the team. In this party, Aamir Khan and Kiran Rao performed Gomba Sumshak Dance (Traditional Dance of Ladakh) wearing Ladakhi costumes Kaus and Sulma.
It is worth noting that a few days ago, a video went viral after the shooting done in the village. It claimed that Aamir Khan and the team left the shooting site without cleaning it after shooting.
Also read- Jammu and Kashmir: Mental problems for those recovering from corona, hair falling with diabetes
After this, on behalf of Aamir Khan Production, it was clarified on social media that the allegations of leaving the shooting site with dirt are not true. Whenever the team shoots at a location, it makes sure to bring it to the previous position before leaving.
.